On Thursday, October 8 from 12:00 – 4:00 PM at the Mercedes-Benz Superdome, more than 70 employers will be at the Fall Career Expo.  Don't think it's for you?  Think again!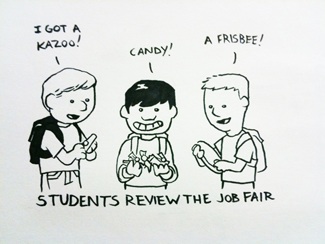 Myth #1:"Career Fairs are just for seniors."
Truth:  A number of companies attending the Fall Career Expo are interested in hiring part-time employees or interns.  Consider exploring any of the following: a summer experience, volunteer opportunities, or a chance to shadow employees or conduct an informational interview.  Employers want the opportunity to speak with all types of students.
Myth #2:"I'm too young to be at a Career Fair; I don't even know what I would say to an employer!"
Truth: Participating in a Career Fair as a first or second year student is a great way to learn about companies you may want to work for in the near future.  If you research companies in advance, you can prepare what you'll say.  Visit the Career Development Center website for the full list of registered companies.  Also, learning how to speak professionally with employers is a valuable, life-long skill.
How is your handshake?  Too firm?  Too limp?  Here's your chance to practice!
Does your 20-second elevator pitch come off rehearsed or natural?
Can you have a balanced conversation – a dialogue – where you ask questions and listen just as much as you talk?
Can you respond confidently to an employer's question about yourself?
Take the opportunity to speak with employers and ask what they are looking for in a perspective employee. Work to gain those skills and experiences before you graduate.
Myth #3: "The employer couldn't take my resume. What a waste of time!"
Truth: Sometimes, company policy or even federal regulations prevent employers from accepting students' resumes at career fairs. If a recruiter is unable to accept your resume, give them a business card.  Also, you can use your time productively and speak with employers about career paths and your career goals.  You have this employer's full attention – use it wisely!  Connecting with the recruiter post-fair on LinkedIn or via email is a perfect way to maintain communication until the time comes when you are ready to apply for an internship or job opportunity.
To recap, First Year students and Sophomores can use the Career Fair to:
Explore possible internship possibilities!
Learn more about potential career paths and interact with employers!
Start building your professional network!
Let the Career Development Center Help You!
Visit the Career Development Center (2nd Floor, Danna Student Center) during our walk in hours: Monday and Thursdays, 2:00 pm – 4:00 pm to have your resume reviewed or make an appointment by calling 504.865.3860.